2018 __ Italy Project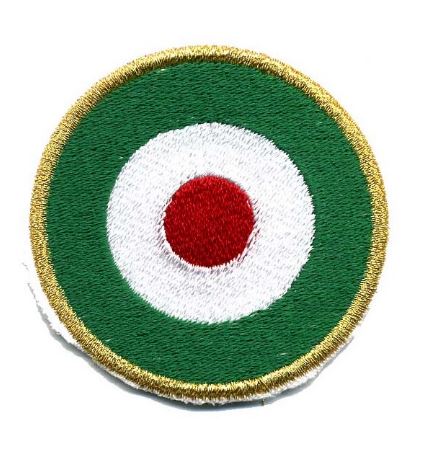 PROGRAM

Simone Conforti
WhatAreWeWaitingFor, 2018

Simone Conforti
WeWillNeverBeGreatAgain, 2017

Maurilio Cacciatore
New Work, 2018, world premiere
Federico Costanza
New Work, 2018, world premiere
Luciano Berio
Gesti, 1966
Stefano Gervasoni
Romper del dia, 2014
arr. for recorder and voice, 2018, world premiere
Ivan Fedele
Tellus, 2011

IDEE

Das Italy Project bringt einerseits Werke der jüngsten italienischen Komponistengeneration zusammen und spiegelt sie an neuen Werken der Etablierten. Alle Werke (mit Ausnahme von Berio) stammen von Komponisten, deren Arbeiten UMS 'n JIP seit mehreren Jahren kennen, bzw. die seit mehreren Jahren mit dem Duo zusammenarbeiten. Live-Elektronik, Fluxus, Performance, Musiktheater und Konzeptkunst wechseln sich mit klassischen Kammermusikformaten ab, so dass das Programm ein intermediales und multidisziplinäres Panoptikum des italienischen Musikschaffens bietet.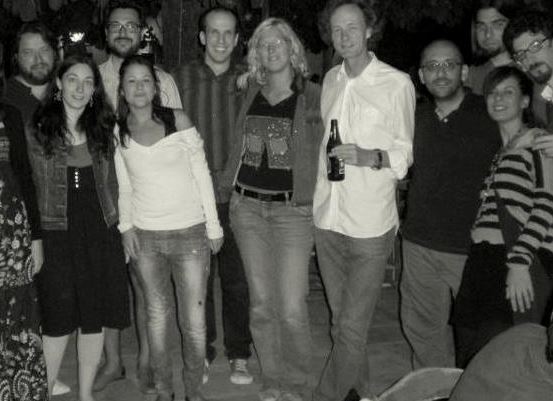 with Federico Costanza (and Beat Furrer, Haris Kittos, Mateu Malondra a.o.), Pelion/GR, 2010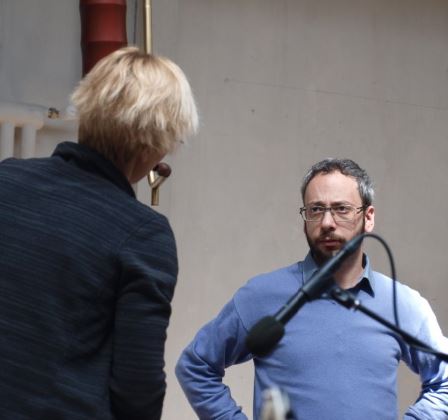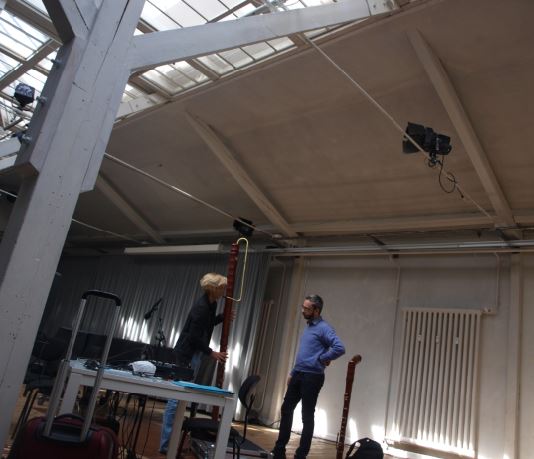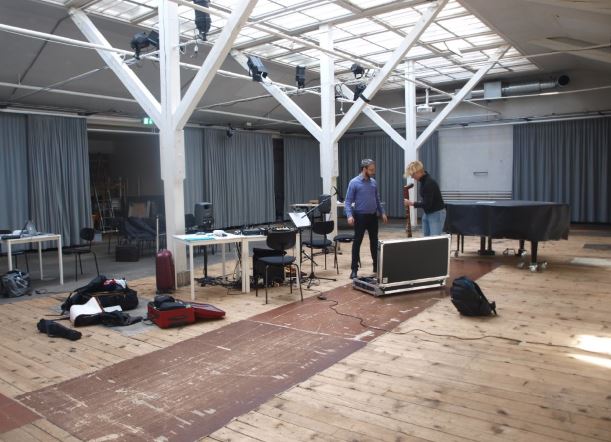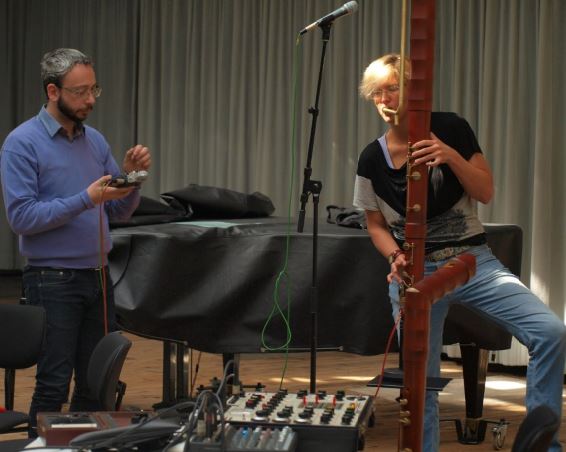 with Maurilio Cacciatore, Ackermannshof Basel 2017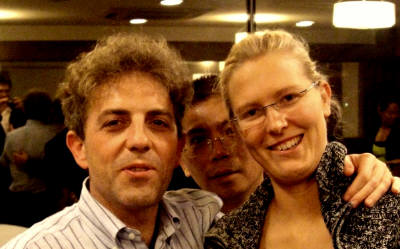 with Stefano Gervasoni (and Wen Deqing), Shanghai New Music Days 2009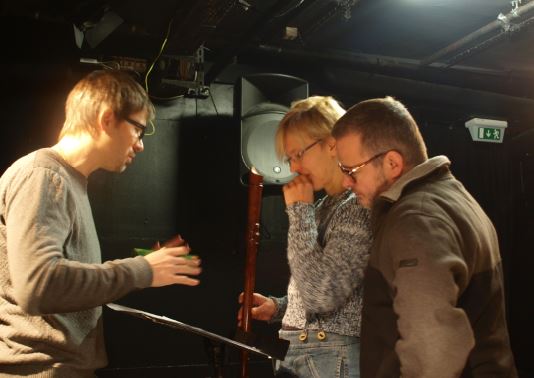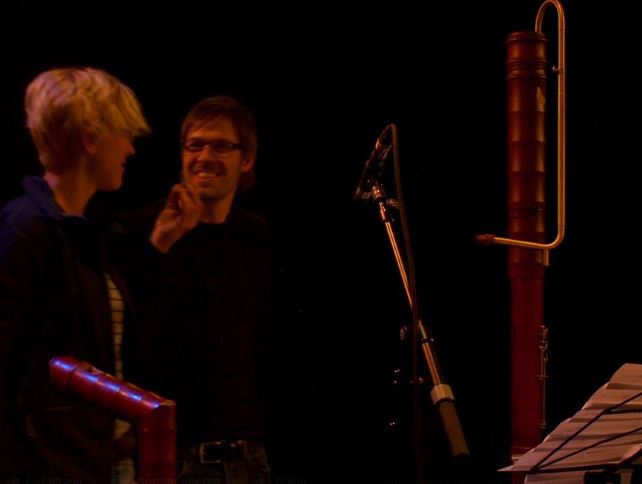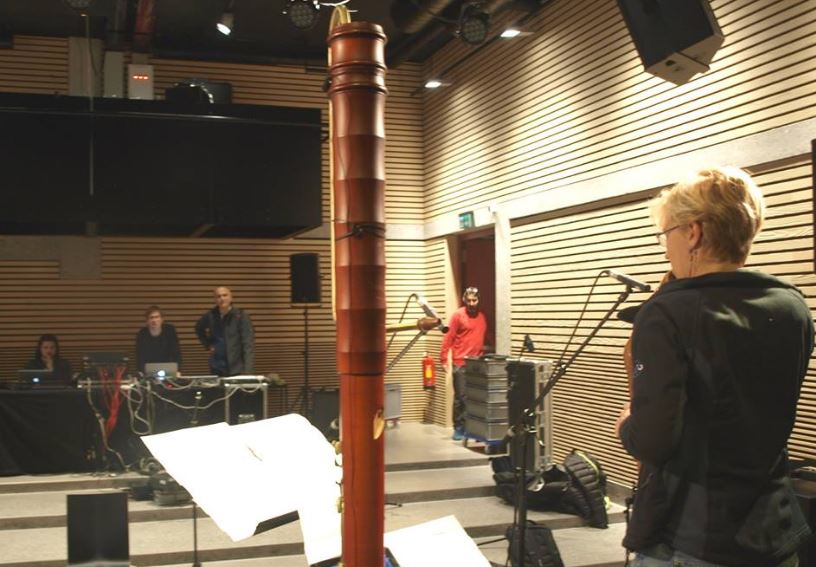 with Simone Conforti, Unternehmen Mitte Basel / Festival Archipel Geneva 2017

COMPOSERS
Born in Bergamo in 1962, Stefano Gervasoni began studying composition in 1980 on the advice of Luigi Nono: this encounter, as well as others with Brian Ferneyhough, Peter Eötvös and Helmut Lachenmann, turned out to be decisive for his career. After attending the Conservatorio Giuseppe Verdi in Milan, Stefano Gervasoni studied with György Ligeti in Hungary in 1990, and then, in 1992, he attended the IRCAM Course in Composition and in Computer Music in Paris. The first three years in France launched Gervasoni's international career that eventually led him to be artist-in-residence at Villa Medici in Rome for the biennium1995-1996. With commissions from prestigious institutions such the WDR, the SWR, the Orchestra Nazionale della RAI, the Münchner Kammerorchester, the Festival d'Automne in Paris, Radio France, IRCAM, the Casa da Musica in Porto, the Festival Archipel in Geneva, the Divertimento Ensemble in Milan, the Ensemble Intercontemporain, the Ensemble Modern, the Ensemble Contrechamps in Geneva, the Maerzmusik festival in Berlin, the Ars Musica Bruxelles, the Festival Musica in Strasbourg, the French Ministry of Culture, Milan Teatro alla Scala and Suntory Hall in Tokyo, Stefano Gervasoni has established himself as one of the most important Italian composers of his generation. His catalogue – which includes chamber and vocal music, concertos, works for orchestra, for ensemble and an opera (Limbus-Limbo), commissioned for the 50th anniversary of the Percussions de Strasbourg (2012) – was first published by Ricordi, from 1987, and then, from 2000, by Suvini Zerboni. A monographic CD entitled Antiterra, which features the pieces An, Animato, Antiterra, Least Bee, Godspell, and Epicadenza, released in 2008 by Aeon, bears witness to «a sonic world of great wealth, subtlety, refinement, expressive but also organic, that immediately captures one's attention» (Philippe Albèra). Other monographic recording collections include the Harmonia Mundi CD in the series Musique Française d'Aujourd'hui (Ensemble Contrechamps), the Stradivarius CD by Divertimento Ensemble and the CD Dir-in dir released in 2014 by Winter & Winter (Académie Charles Cros price and Diapason d'or in France). A recent CD by Winter & WInter, released in 2016, entitled Le pré includes the three books of a piano cycle. Winner of numerous prizes, including the recent Premio della Critica Musicale "Franco Abbiati" (2010), his work has allowed him to be a grant-holder at the Fondation des Treilles in Paris (1994) and at the DAAD in Berlin (2006) and composer-in-residence at the Domaine de Kerguéhennec during the period 2008-2010. He has also been invited to teach at the Darmstadt Ferienkurse, on the courses organised by the Fondation Royaumont (Paris), at Toho University in Tokyo, at the Festival International di Campos do Jordão in Brazil, at the Conservatory in Shanghai, at Columbia University (New York), at Harvard University (Boston) and at Takefu International Music Festival. He has been composer-in-residence at Lausanne Conservatoire (2005) and at Yellow Barn Summer Academy (Vermont, 2016). Moreover, he has been visiting professor at ESMUC in Barcelona for the 2012-13 academic year. Since 2006 Stefano Gervasoni has held a regular teaching post as professor of composition at the prestigious Conservatoire National Supérieur de Musique et de Danse in Paris. The musicologist Philippe Albèra wrote a substantial book on Stefano Gervasoni's work, Stefano Gervasoni. Le parti pris des sons, published in 2015 by Editions Contrechamps (Geneva).
http://www.stefanogervasoni.net/
Federico Costanza (1976). Graduated in Piano, Composition and Electronic Music (with Alvise Vidolin) at the Music Conservatory of Venice. He attended several courses: 40°- 41° International Summer Courses in Darmstadt (2000, 2002) where he has followed the lessons of S. Sciarrino, B. Furrer, T. Hosokawa, O. Neuwirth, T. Murail; Compositori a Confronto in Reggio Emilia (from 2000 to 2005), where he met Michael Levinas in 2000; electronic music workshops with Andrè Richard, Agostino Di Scipio. He has attended the specialization course of Composition with Giacomo Manzoni to the Scuola di Musica di Fiesole (2008-10). In 2009 Salvatore Sciarrino has selected him in order to attend his course De Musica 2009 ovvero la Fabbrica della Creatività organized by Associazione Nuova Conosonanza in Rome. In 2010 in the same city he attended the course De Musica 2010 with Beat Furrer. In 2011 he was selected (with a scholarship) for the Composition Workshop with Beat Furrer and dissonArt ensemble. His new works Mutosso for 5 instruments was be rehearsed and performed in a concert by dissonArt ensemble conducted by Beat Furrer towards the end of the workshop. In 2012 he was selected for the Composition Masterclass with Pierluigi Billone in Venice. In 2012 he won an italian scholarship "LLP Leonardo Da Vinci Programme" for a training period and an artistic residence, as composer, of 5 months at ZKM | Institute für Musik und Akustik in Karlsruhe. During this residency he worked on a project with toy piano, actuators and live electronics performed in a live concert for the SWR radio. His works were performed in several festivals: Spazionovecento XXIV (Cremona 2003), 29° Cantiere Internazionale d'Arte di Montepulciano (Siena 2004), ASTRA Concerts (Melbourne 2004/2007), Gaudeamus Interpreters Competition (Amsterdam 2005),Groggia Modern (Venice 2006/2007), Festival Wintermezzo (Bolzano 2007), Contemporanea 2008 (Udine), 52° Festival Biennale Musica di Venezia (Venice 2008), Outdoors (Venice 2009), Estate Fiesolana - 62° ed. (Florence 2009); World Venice Forum 2009 (Venice 2009), Festival Atlante Sonoro XXI (Rome 2010),The BEAMS Electronic Music Half Marathon (Boston 2010), Festival MiXXer (Ferrara 2010), Atlante Sonoro XXI (Rome 2011), Music Village 2011 (Aghios Lavrendios, Greece), Radio UNAM (Messico City, Messico), Music@villaromana in Florence, Arizona State University, ZKM/HfG and SWR radio in Karlsruhe, Teatro La Fenice Symphonic Season 2013 in Venice, Contemporanea Festival, Udine (2013), Nuova Consonanza festival (2013), Computer Music Space - Electroacoustic autumn 2013 (Bulgaria 2013), Maratona Contemporanea at Teatro La Fenice (2014), Festival Musica/Realtà in Milan (2014), etc. Performed by: Lugano Percussion Group, Young Janácek Philharmonic Orchestra, Anna D'Errico, Kreutzer Quartet, DissonART ensemble, Beat Furrer, Liminar, ASU Contemporary Percussion Ensemble, Orchestra La Fenice, Stefano Montanari, Ex-novo ensemble, Alfonso Alberti, etc. He wrote music for theatre (Piacenza 2004 and 2009 for Stefano Tomassini) and dance (collaboration with Kinkaleri company for the work Twothousand | All! performed at festival music@villaromana at Villa Romana in Florence). Commissions received by: Cantiere Internazionale d'Arte–Montepulciano; Astra Society–Melbourne; La Biennale of Venice; Infidi Lumi Company; Foundation of Scuola di Musica di Fiesole, arTree company, Fondazione Teatro La Fenice of Venice, Associazione Nuova Consonanza of Rome, M° Luigi Pestalozza president of Associazione Amici di Musica/Realtà of Milan, etc. Between 2009-2011 with Meccanica Azione Sonora group he has organized and participated to many musical projects: some concerts for World Venice Forum 2009 organized by IAES (Venice 2009), Festival Atlante Sonoro XXI organized by Freon (Rome 2010), 54th Biennale Musica (Venice 2010), EMUfest 2010 and Festival FREON in Rome, Virtual Electronic Poems at Virtual Reality & Multimedia Park of Turin during the "XVIII CIM-Colloquium of Musical Informatics"; the collective score .WAV ad Alvise Vidolin per il suo sessantesimo compleanno for string quartet, laptops ensemble and live electronics (Venice 2009, published by ArsPublica); Meccanica Azione Sonora has also presented his work with lectures and demonstrations at the XVIII CIM Colloquium at the University of Turin. He starts a collaboration with the italian writer Tiziano Scarpa with few reading and live performances (Teatro La Fenice of Venice, Murate of Florence, Teatro G. Verdi of Pordenone, etc). Always he has been interested in toy piano instruments, he starts new projects around it: a "SOLO" project with toy pianos and electronics; and a special duo of amplified toy pianos and electric bass (with/without electronics and with whom he performed in various festivals. His works are published and recorded by Ars Publica Edition, Report #00, Rivo Alto. His music was also broadcasted by Radio UNAM (Messico), SWR2 (Germany), Rai Radio 3 (Italy), La Fenice Channel. Currently cooperates, as music educator and composer, with Area Formazione&Multimedia of Fondazione Teatro La Fenice. Professor at Istituto Superiore di Studi Musicali "Rinaldo Franci", Siena.
http://federicocostanza.wix.com/
Maurilio Cacciatore's music stems out of a combination of acoustical instruments with tools for digital music. It also incorporates electromechanical objects and uses various resources of informatics. It results in complex, multi-layered texture, presenting on the surface classical instruments and electronics, while containing an inner core of hybrid and non conventional techniques. Beyond the conventional standard of spatialization, Maurilio Cacciatore's loudspeaker setups explore non-coded solutions that integrate hardware and software within various musical contents. The theatrical dimension of his works tends to integrate visual aspects and music into the score, seeking an improvement of communication among the players on stage. He has been composer in residence at the Studios of the Ircam, the ZKM, the Muse en Circuit of Paris and the Elektronisches Studio Basel. He has been student of Fabio Cifariello Ciardi and Ivan Fedele, always obtaining the beast marks in Italy, Sweden and France. He is currently working toward a PhD at the Catholic University of Porto and the Academy of Music of Basel under the guidance of Erik Oña. He is lecturer of Electroacoustic Composition at the Conservatory of Castelfranco Veneto (Italy). Maurilio is active as composer, professor and researcher in Europe, Asia, North America and Australia. He has been performed by first class ensemble and Institutions such as: Ensemble Intercontemporain, Orchestre Philharmonique de Radio France, Orchestre National de Lorraine, I Pomeriggi Musicali, Hanatsu miroir, Ensemble Linea, Proxima Centauri, Kammerorchester Basel, Ensemble Phoenix Basel, Aleph, L'arsenale, Algoritmo, Sentieri Selvaggi, Contempoartensemble, Choir Le Cris de Paris, Voix de Strass. Among the soloists who performed his music: Mario Caroli, Emanuele Torquati, Matteo Cesari, Maruta Staravoitava, In 2008 he co-founded the Ensemble L'Imaginaire. His music is published by the Edizioni Suvini Zerboni, Milan.
http://www.mauriliocacciatore.com/
Simone Conforti, born in Winterthur (Switzerland) in the 1979, has been graduated in Flute in 1999 at the Conservatory of Florence and in Electronic Music in 2004 obtaining the maximum evaluation. He works as researcher since 2003 in the MARTLab, developed by the Conservatory of Music "L. Cherubini" of Florence and the ISTI Institute (part of the National Research Council CNR), center involved in research and production for the sound documents preservation and restoration. As a teacher, he worked, for the Music and New Technologies department (Bachelor and Master courses) of the Conservatory of Music "L. Cherubini" of Florence, since 2004. He also works regularly as a teacher for courses and workshops reguarding musical technologies, relationship between musicians and the contemporary music (especially in the field of relationship between acoustic and electronic sounds) and sound documents preservation and restoration. He works as electronic composer composing his own musics and collaborating, with many musicians and artists, in the development of the electronic music for their works. Between these we find: Ivan Fedele, Adriano Guarnieri, Daniele Lombardi, vocal ensemble L'homme armé, Maurizio Nannucci and Roberto Ciaccio, such activity has brought him to execute various jobs in important locations like Festival MANCA in Nice, the GAM of Turin, the MART of Rovereto, Festival Acanthes 2009, Teatro dal Verme, Istituto Nazionale per la Grafica. In 2003 he won the competition "Severino Gazzelloni". He published for AIB (Italian Library Association), ISTI Institute (part of the National Research Council CNR), Biennale Musica (Venice), Suvini Zerboni, Mudima Music, die Schachtel, Neos.
http://www.temporoom.net/en/simone_conforti.php
Ivan Fedele
http://www.ivanfedele.eu/
Luciano Berio
https://en.wikipedia.org/wiki/Luciano_Berio

PHOTOS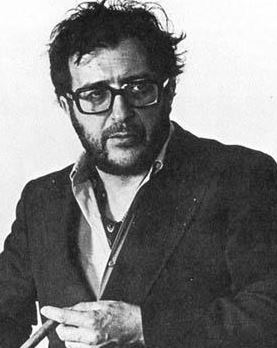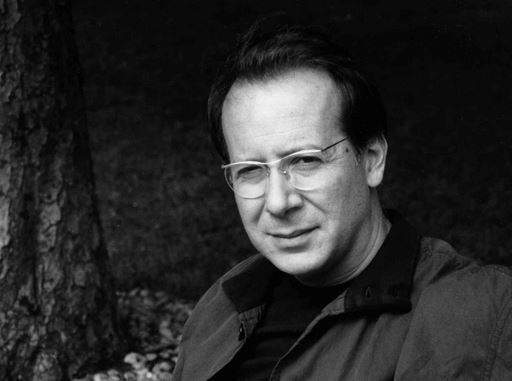 Luciano Berio, Stefano Gervasoni, Ivan Fedele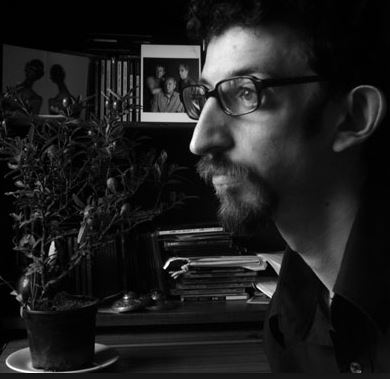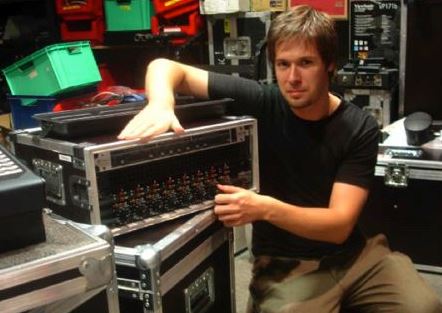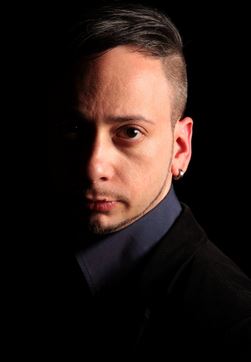 Federico Costanza, Simone Conforti, Maurilio Cacciatore

REFERENCES





SUPPORTS